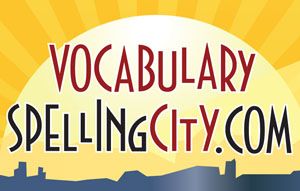 My oldest child is going into the 2nd grade this fall and we haven't ever done formal spelling or vocabulary. I was excited when I saw that Vocabulary Spelling City was up for review. I thought it would be a great opportunity to add those to our curriculum.
From their site:
Vocabulary Spelling City Mission: efficient game-based study of literacy skills using any word list.
Vocabulary Spelling City is an award winning website that offers:
Over 42,000 spelling words with customizable sentences and definitions
A REAL person who says each word and sentence
Free home pages for teachers and parents to save lists
Teacher training videos
Free printable handwriting worksheets
Free teaching resources with lists and lesson plans
Twenty-five games to play online or to print such as:
Alphabetical Order, Unscramble, Parts of Speech, HangMouse, Crossword Puzzle, WordSearch, and Vocabulary Test.
A free forum and newsletters
And for Teachers: They have Parent Letters available as a PDF for you to print and send home with your students' spelling word lists.
Vocabulary Spelling City is for grades K-12 and the cost for a family membership (up to 5 children) is $29.95 a year. The cost for a classroom membership (up to 25 children) is $49.99 a year. They also have a free Vocabulary Spelling City iTunes app.
This one didn't really work for my family. We had never done any spelling words before so I just took a few from the book she was learning to read. I set up a list and added a bunch of vocabulary games and spelling games. I then showed her how to log on and set her loose… until she immediately called me back in. She had trouble playing the games on her own. She needed a lot of assistance from me. Every time I asked her if she wanted to play she would say no. I would talk her into playing and she would whine the whole time that she wanted to stop. My daughter is a beginning reader and it required a lot of reading. I think if she was a year older she would have gotten a lot more out of it. There are grammar lessons that I might use in the future. They teach things like contractions, antonyms and homophones.
One thing I did find neat is that Vocabulary Spelling City teamed up with Sequential Spelling which is a Spelling Program I would like to try with my daughter next year. Maybe we will get more out of the program then.
Although this didn't work out for us, many of the other reviewers LOVED it. So please check out what they have to say about it by clicking the banner below.
Disclaimer: I received a free membership to Vocabulary Spelling City in exchange for my honest review.

Related posts: