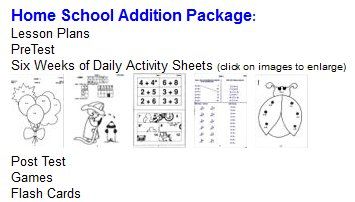 We had the opportunity to review Addition Teaching and Learning Made Easy from Math Made Easy. They use a simple method to teach addition facts.
They first get all of the zero's and 1′s out of the way, which leaves only 36 addition facts for your child to learn (duplicates are taught at the same time). There is a pre-test for your child when you first get started. The book is separated into six weeks and then into days (Monday-Friday). Each day they do a worksheet. It might be a coloring page, a word code, a puzzle (all include math facts). Thursday and Friday worksheets are the hardest. There are also three games to play, a weekly review and flash cards to use each week. At the end there is a post test.
I feel that they could have done a better job on the lesson plans and instructions. The lesson plans for 6 weeks are all on one page. I had to reread them more then once and look through the book several times to get an idea of what they were talking about.
My daughter loved the worksheets. She loves to cut, color and paste. So Monday-Wednesday worksheets were great for her. She didn't care for the Thursday and Friday worksheets. She liked the games but one of them has a mistake. It is a board game and one spot says "go back one space". The most you ever move forward is one space so they must not have tried it out because you just go back and forth between those two spaces forever. We simply ignored the direction to move back one space and continued the game. No biggie. She tolerated the flash cards.
As a family we typically do not do many worksheets and almost never use flashcards. I do feel that math facts are important and so we tried it out. We did the program slower then suggested, so we are only about halfway through it. She is getting better at her addition facts.
Addition Teaching and Learning Made Easy from Math Made Easy is $24.95. It comes as a comb bound book. The games are on heavier colored cardstock and the flashcards are on heavier perforated cardstock. I think the price is a little high for what you receive. I could see paying that much if the games were already put together and the flash cards were pre-cut.
I received a copy of the book free of charge in exchange for my honest review.
Math Made Easy also has a multiplication facts book that some of my crew mates are reviewing.

Related posts: