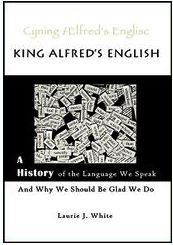 King Alfred's English: A History Of The Language We Speak And Why We Should Be Glad We Do by Laurie J. White.
My two favorite subjects are History and English. It wasn't much of a surprise that when I saw the title of this book, I really wanted to review it. I knew that I would find it interesting. However, I wasn't prepared to love it the way that I did. I enjoyed it so much I will probably read it a few more times. She writes in an easy conversational tone. It is written to the 7th-12th grader. I brought this book with me on vacation and could hardly put it down. There is a surprising amount of information in this book of 151 pages.
Laurie homeschooled her three children. She fell in love with the history of English during a college course on the subject.
From her website:
Want your student to absorb more English history than you ever thought possible? Or actually think grammar is intriguing? Toss him this unique combination study of both English and history. The book caps off with the story of the Reformation and the fascinating struggle to get the Bible into English.

Just a handful of the fascinating things I learned from this book…
Why English words are spelled so strange.
Why writing Xmas is not sacrilegious.
Why we have way more words in the English language then any other language.
Why we celebrate St. Patrick's Day.
Why ain't is not a word. And it ain't because it ain't in the dictionary.
My children are to young for this book, but I did share parts of it with Rylee (going into 2nd grade) and she enjoyed it. I may use it as a read aloud with her in a couple of years. I am looking forward to using it as a highschool course. There are Teacher and Student resources for free on her website.
I highly recommend this book. You can see the Table of Contents and Read the first chapter for free.
You can purchase King Alfred's English: A History of the Language We Speak and Why We Should Be Glad We Do

on Amazon for $16.95 or King Alfred's English: A History of the Language We Speak and Why We Should Be Glad We Do

on your kindle for $5.95. You can also get it from Christian Book for $14.89 and the first five people who comment on this post with their email address will be sent a coupon code to get the softcover book at half cost.

Disclaimer: I received a copy of this book free of charge in exchange for my honest review.
Related posts: